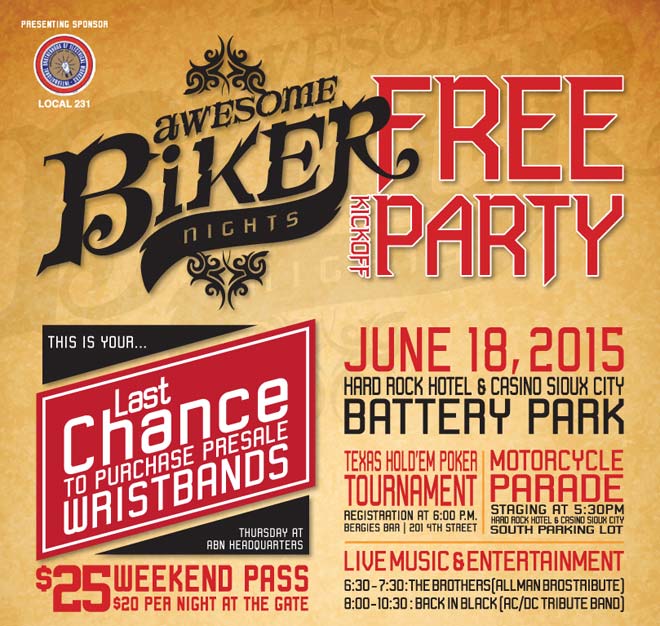 Iowa Street Stage
(aka East Stage)
Awesome Biker Nights is Pleased to announce the addition of The Iowa Street Stage (AKA East Stage) for the 2015 event. The Iowa Street Stage is a collaborative effort with Teasers and The Chesterfield along with Awesome Biker Nights to run an independent lineup featuring 3D In Your Face on Friday night along with Gypsy All Stars and Saul. Headlining Saturday will be the Jacob Martin Band along with Rock Paper Dynamite and Ghost Cat. Awesome Biker Nights has run three stages for the last several years and we are pleased to announce this collaborative effort to continue to Maximize the experience for our guests.
Friday June 19th
Iowa Street Stage (East Stage)
10:30-12:00 - 3D In Your Face
9:00-10:00 - Gypsy All Stars
7:30-8:30 - Saul
Saturday June 20th
Iowa Street Stage (East Stage)
10:30-12:00 - Jacob Martin Band
9:00-10:00 - Rock Paper Dynamite
7:30-8:30 - GhostCat

Winner's Choice Raffle Tickets Now on Sale
BIKE RAFFLE TICKETS are on sale NOW!! Purchase your ticket(s) at any of the ABN Charities!! You could win a 2015 Yamaha Viking 6 Seat UTV (or your choice of four other bikes or $12,500 CASH)!! Think about how much fun would you and your friends could have this summer?!?!?!
You're Choice
2015 Harley-Davidson FLSTC Heritage Classic
2015 BMW R1200GSW
2014 Honda Valkyrie
2015 Victory Cross Country
2015 Yamaha Viking
6 Seat UTV - Special Edition with Big Wheel kit
OR $12,500 CASH
Drawing on Saturday, June 20th, 2015.

As we prepare for the 2015 Awesome Biker Nights event, we're seeking your financial support. Planning a charity event like this, that draws as many as 25,000 people is not an easy task. It takes the generous support from people like you to make it all happen. Please consider donating and support our local charities.