Awesome Biker NightS Charities Run
June 8th, 2019
Registration is from 9:00 - 12:00. You must return by 5:00 to collect your Poker Hand.
OVER $1500.00 IN CASH CARDS for the 1st, 2nd and 3rd place
along with prizes!
A poker run through the beautiful Iowa countryside will take place in June, 8th 2019.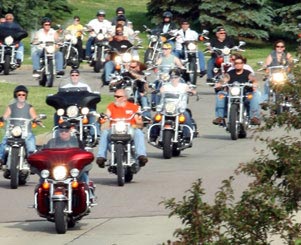 ---
Click Map for a Printable PDF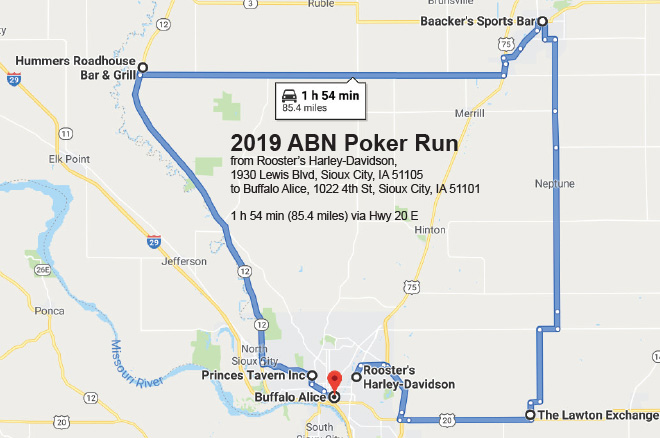 Rooster's Harley-Davidson, 1930 Lewis Blvd, Sioux City, IA 51105
From Rooster's to: The Lawton Exchange, 311 Cedar St, Lawton, IA 51030
Get on US-75 S from US-75 BUS N and 28th St
Follow US-75 S and Hwy 20 E to Cedar St
Turn left onto Cedar St Destination will be on the left
From The Lawton Exchange to: Baacker's Sports Bar, 18 2nd St NW, Le Mars, IA 51031
Take Emmett Ave, K49 and 7th Ave SE to Plymouth St in Le Mars
Turn left onto Plymouth St Destination will be on the right
From Baacker's to: Hummers Roadhouse Bar & Grill, 201 Union St, Westfield, IA 51062
Take Co Rd C38 to Union St in Westfield
Turn right onto Union St Destination will be on the left
From Hummer's to: Princes Tavern Inc, 1920 Center St, Sioux City, IA 51103
Head west on Union St toward Martin, Turn left onto IA-12 S/Portland St, Continue to follow IA-12 S. Continue straight onto Sioux River Rd, Turn left onto Military Rd, Continue onto W 21st St, Continue onto Center St, Destination will be on the left.
From Princes to: Buffalo Alice, 1022 4th St, Sioux City, IA 51101
Head south on Center St toward W 19th St., Turn left onto W 7th St, Pass by O'Reilly Auto Parts (on the right), Turn right onto Pearl St, Turn left at the 3rd cross street onto 5th St, Turn right onto Court St, Turn right onto 4th St, Destination will be on the left.
These directions are for planning purposes only. You may find that construction projects, traffic, weather, or other events may cause conditions to differ from the map results, and you should plan your route accordingly. You must obey all signs or notices regarding your route.